Theola Burton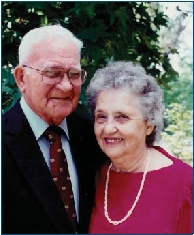 Clyde and Theola Burton
"Theola Jane Kite was born on June 1, 1921, in a rural community near Weir, MS. At an early age, she married Grady Clyde Burton, a covenant relationship that continued until his death on September 19, 2004. To that home were born five children.
"When Clyde and Theola moved to Winona, MS in 1948, they began to search for a congregation of the Lord's church. Clyde's grandparents and parents were Christians, so that heritage was there. In 1948, a handful of members of the church had begun meeting weekly at the local courthouse. The Burtons became part of the group and continued to be pillars of strength and leadership throughout their lives. As the congregation matured, Clyde served as one of the elders. Through their efforts to share the Gospel with others, souls were added to the church. In 1973, they along with others in the congregation, were instrumental in converting the first Black lady, which resulted in the Winona church being the first religious body to be integrated in the town. Clyde died on September 19, 2004.
"In the early years of the church in Winona, J.C. Choate was invited to conduct a "mission meeting". He came, was welcomed into the hospitality of the Burton home, and conducted several meetings in the area in subsequent times. Besides the souls won to Christ through those efforts, J.C. married the Burtons' daughter, Betty.
"Theola was 90 years old, June 1, 2011. She was still very active — even had a little garden this year. Her mind was sharp, and her interest in people was great.
On November 17, she fell and suffered a spiral fracture from her hip to her knee. She had surgery to repair the break, and the care at the hospital was all that anyone could ask, but her weakened body could not overcome the complications that developed. She lapsed into a coma and crossed into that eternal realm November 22, to receive the welcome home that awaits all of God's children.
"A little 'aside' that speaks volumes about Theola's focus in life: On the way to the hospital in the ambulance, she made opportunity to talk with the attendant about his soul, and was happy that he wrote on his arm some of the Scripture references and promised to study them. During those five days at the hospital, we gave quite a number of copies of The Voice of Truth International and select study books to the nurses and doctors. Her intention always was to make a way to bring up the subject of salvation. Her life has been a motivational example for all of those who knew her."